You are here
Back to top
Aetherbound (Paperback)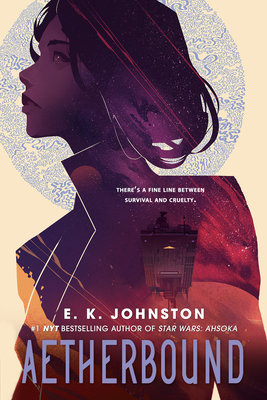 $10.99
Email for pricing and availability
Description
---
A thought-provoking new YA space adventure from the #1 New York Times bestselling author of Star Wars: Ahsoka.

Set on a family-run interstellar freighter called the Harland and a mysterious remote space station, E. K. Johnston's latest is story of survival and self-determination.

Pendt Harland's family sees her as a waste of food on their long-haul space cruiser when her genes reveal an undesirable mutation. But if she plays her cards right she might have a chance to do much more than survive. During a space-station layover, Pendt escapes and forms a lucky bond with the Brannick twins, the teenage heirs of the powerful family that owns the station. Against all odds, the trio hatches a long-shot scheme to take over the station and thwart the destinies they never wished for.
About the Author
---
E. K. Johnston is the #1 New York Times bestselling author of several YA novels, including the L.A. Time Book Prize finalist The Story of Owen and Star Wars: Ahsoka. Her novel A Thousand Nights was shortlisted for the Governor General's Award. The New York Times called The Story of Owen "a clever first step in the career of a novelist who, like her troubadour heroine, has many more songs to sing" and in its review of Exit, Pursued by a Bear, The Globe & Mail called Johnston "the Meryl Streep of YA," with "limitless range." E. K. Johnston lives in southwestern Ontario. Follow her on Twitter at @ek_johnston.
Praise For…
---
★"A close-knit, endlessly cathartic gem."—Kirkus, starred review

"Aetherbound had me by the heart in just a few chapters...[a] book for anyone who's ever underestimated themself, and who had to find their people to figure out their power."—Tor.com

"Brimming with heart, this book is the tale of young people searching for a better, kidner way."—San Diego Union Tribune

"E. K. Johnston writes books that are simultaneously gentle and devastating, and I'm not sure how she does it but I'm so glad she does."—Kiersten White, New York Times bestselling author of And I Darken

"E. K. Johnston's Aetherbound is a powerful and gorgeous story of a character who makes her own self, family, and future. I loved it completely."—Kat Howard, Alex Award-winning author of An Unkindness of Magicians

"Compelling and thoughtful, stark and bright, brimming with heart and rebellion, Aetherbound is the space opera you didn't know you needed and a beautiful reminder that the tendrils of hope can grow in even the darkest, hardest world. This book is a gift and a balm."—Delilah S. Dawson, New York Times bestselling author of Star Wars: Phasma

"I always enjoy found-family stories and the acceptance and love that Pendt finds in Aetherbound satisfies tremendously. Poignant themes surrounding bodily autonomy, human trafficking, and colonialism in space remind us that we must wrestle with these problems now. Looking forward to more adventures with Pendt the gene mage!"—Kevin Hearne, author of the Iron Druid Chronicles and Star Wars: Heir to the Jedi

"A masterful blend of magic, genetics, and interstellar relations in a tale that is as sharp as it is tender, as much a critique as it is an adventure. A true battle cry of a book!"—Natalie C. Parker, author of the Seafire Trilogy   

"The beauty of Aetherbound lies in its characters' abilities to face painful, terrible circumstances and still fight for a better life. It's a thought-provoking and hopeful book that encourages a closer examination of what truly makes life valuable."—Bookpage

"Johnston gives readers a dystopian space drama that blends the spirit of Firefly with the heart of The Handmaid's Tale. It's a rewarding read that reflects on human trafficking, the value of human life, and the ethics of gene editing, all posited within the personal framework of almost 18-year-old Pendt's sudden bid for freedom during a station stop and the two brothers committed to helping her."—Booklist

"This engrossing, triumphal sci-fi tale is a gritty space-wizard drama in the tradition of Anne McCaffrey."—The Horn Book

A Kirkus Best Book of 2021
A Tor.com Best Book of 2021