You are here
Back to top
The Wolves of Yellowstone: A Rewilding Story (Hardcover)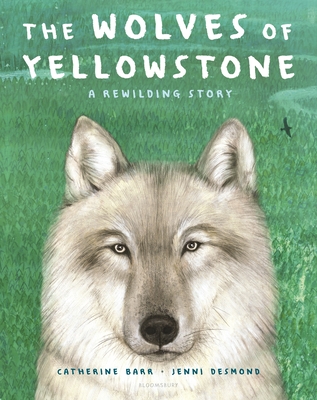 $23.99

Usually Ships in 1-5 Days
Description
---
Here is the fascinating true story of the wolves who restored the ecosystem at Yellowstone National Park, written by Catherine Barr and illustrated by award-winner Jenni Desmond.

In the 1930s, the last wolves disappeared from Yellowstone National Park.

Without them, elk herds overran the plains. Bears starved, rabbit families shrunk, and birds flew away to new homes. Then plants and trees started to die off, too-even the flow of rivers was affected.

Could the park be saved . . . by the wolves it had lost?

After years of planning, in 1995 a team of experts was ready to find out. They carefully relocated fourteen wolves from the Canadian Rockies to Yellowstone. This is the story of their homecoming.

Engaging, informative, and hopeful, The Wolves of Yellowstone shows us that every creature plays a role in sustaining a thriving ecosystem.
About the Author
---
After campaigning with Greenpeace for years, Catherine Barr trained as a journalist and became an editor at the Natural History Museum. Catherine writes non-fiction books that aim to inspire children to explore, understand and take action to protect the natural world. Catherine's first book, The Story of Life, was shortlisted for The English Association Picture Book Award and long listed for the School Library Association Information Book Awards in 2016. She is a proud Patron of Reading for a local school and visits schools all over the country to run workshops inspired by her books.

Jenni Desmond is an artist, illustrator and award-winning picture book maker. She is the illustrator or author/illustrator of numerous books including Wolves of Yellowstone, The Polar Bear, Migration, and Albert's Tree. Her books have been featured as a best book of the year in The New York Times, Publishers Weekly, The Guardian, Huffington Post, Brainpickings, and Washington Post among others. Jenni lives in east London UK with her husband who is an architect and their daughter. When she's not in her studio, you'll find her covered in mud and plants in the garden, cycling her bike around and swapping city life for hikes down by the sea shore or up in the hills and the mountains.
Praise For…
---
"A rich nonfiction picture book that perfectly highlights the interconnectedness of the natural world . . . . Any lover of nature and science should find plenty to absorb within." —Shelf Awareness

"Artful writing and comprehensive research combine in this wide-ranging, lyrical picture book about returning wolves to the Yellowstone ecosystem. Desmond's soft but poignant illustrations set a strong tone, with soulful portraits of individual wolves, vast landscapes of mountains and meadows, and scenes of wolves ranging through the habitat." —Booklist, starred review

"[A] remarkable story . . . illustrated with understated elegance." —Wall Street Journal

"Wildlife-abundant watercolors and labeled vignettes that use straightforward prose combine to give this natural history narrative a nature journal's feel. . . . An excellent resource for teaching about the interrelatedness of ecosystems and keystone species." - Publishers Weekly

"The book is brilliantly illustrated with detailed watercolor pictures. Descriptions draw readers into the setting, where they will learn all about the biodiversity of Yellowstone National Park and what scientists have learned about the ecosystem." —School Library Journal

"Desmond's graceful watercolors of the animals in summer and winter landscapes give a sense of the breadth and diversity of nature in the protected spaces of the American West." —The Horn Book

"Compelling and visually exciting . . . Beautiful watercolor illustrations are as mesmerizing as the fact-filled and dramatic narration." —School Library Connection