You are here
Back to top
The Breakup Monologues: The Unexpected Joy of Heartbreak (Hardcover)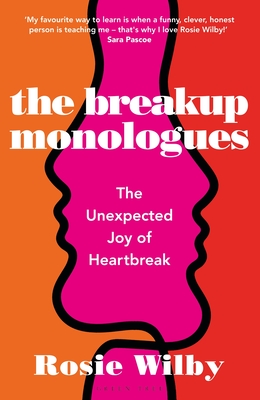 $22.00
Email for pricing and availability
Description
---
Mixing humour, heartache and science, award-winning comedian, author and accidental relationship guru Rosie Wilby embarks on a quest to investigate, understand and conquer the psychology of heartbreak. Tragedy plus time equals comedy, right?

In 2011, comedian Rosie Wilby was dumped by email. .. though she did feel a little better about it after correcting her ex's spelling and punctuation. Obsessing about breakups ever since, she embarked on a quest to investigate, understand and conquer the psychology of heartbreak.

That quest proved to be a creatively fertile one, resulting in Rosie's acclaimed podcast The Breakup Monologues. She decided to ask her colleagues on the circuit about their experiences of romantic disaster and recovery, thinking, 'if one group of people have become adept at learning from catastrophe it is comedians. The worst onstage deaths are the performances that enlighten us most about how to improve.' She wondered if comics had been able to transfer this 'fail better' logic to love.

This book is a love letter to her breakups, a celebration of what they have taught her peppered with anecdotes from illustrious friends and interviews with relationship therapists, scientists and sociologists about separating in the modern age of ghosting, breadcrumbing and conscious uncoupling. Her plan is to assimilate their advice and ideas in order to not break up with Girlfriend, her partner of nearly three years. Will this self-confessed serial monogamist, and breakup addict, finally settle down?
About the Author
---
Rosie Wilby is an award-winning comedian who has appeared many times on BBC Radio 4 programmes including Woman's Hour, Loose Ends, Midweek, The Human Zoo and Four Thought. Her first book Is Monogamy Dead? followed her TEDx talk of the same name and a trilogy of internationally-acclaimed solo shows investigating the psychology of love and relationships.

Rosie also presents The Breakup Monologues podcast, which was nominated for a British Podcast Award and has been recommended by Chortle, BBC Radio 4, The Observer, Metro and Time Out. She writes for publications including the Guardian, Cosmo, The Sunday Times and New Statesman and regularly appears as a commentator on sexuality, dating and love on radio and TV programmes including Good Morning Britain.
Praise For…
---
"We all know about the joys of love and relationships, but there's so much more to discover about the glorious benefits of breakups. Rosie reassures and entertains you through brilliant stories and fabulous facts, about what can be gained from the end of a relationship. This is a hilarious, honest and brilliant book!" —Helen Thorn, Scummy Mummies podcaster

"piercingly honest… witty… wonderful" —The Observer

"For anyone who has ever been disenchanted by idealised romantic fairytales, this book will make you feel less alone. Rosie Wilby unearths the hope and hilarity that can come from heartbreak." —Abigail Tarttelin

"My favourite way to learn is when a funny, clever, honest person is teaching me - that's why I love Rosie Wilby!" —Sara Pascoe

"Funny, sweet, entertaining, insightful, life-affirming... this book is all the things a breakup is not. Rosie's wisdom is balm for the soul for anyone who has ever been in love." —Viv Groskop

"[a] gem of a book" —Red Magazine

"Comedian Rosie Wilby deftly blends her own experiences with insights from therapists, sociologists and scientists to explore why heartbreak can be so devastating." —Therapy Today

"If you've ever been heartbroken, this will help you heal. Plus it's FUNNY" —Nichi Hodgson

"... wise, funny and clever" —Lucy-Anne Holmes

"I unexpectedly found this really brilliant. It's about how heartbreak can be a real turning point and the creativity that comes with the depths of depression. It's a really new take on it." —Lorraine Candy

"The smartest and most thought-provoking book about breakups in recent memory… expertly blends comedy, personal memoir and science to create the most essential book of the season" —The Maritime Edit

"The Breakup Monologues is a book to go back to, again and again. It's smart, funny, and wise. Buy it for all your friends, single, coupled, or otherwise." —Liza Delfouli, Arts Hub

"Fascinating, insightful and empathetic, it's a more compelling read than many novels and considerably funnier." —Literarysofa.com

"A brilliantly wise combination of humour and science.
" —Psychologies

"The Breakup Monologues is utterly readable and engaging. It cleverly delves into a universal rite of passage, analysing it from a scientific and psychological angle while also being moving and invoking laughter." —The Wee Review

"An absolute joy to read, The Breakup Monologues will no doubt make anyone who reads it think more deeply and empathetically about their former and current relationships. And laugh. A lot." —Morning Star

"Rosie is the most amiable, trustworthy, and soul-searching of narrators. Anyone in need of supportive hand-holding in the love department should read this. Still, it's far more than a self-help book. The Break-up Monologues is a bittersweet laugh from start to finish – my new literary best friend." —Perspective

"Her wit and compassion make this a joyful read" —Matthew D'Ancona

"Unflinchingly honest…reassuring, relatable and surprisingly hopeful." —Psychologies