You are here
Back to top
I'm a Hare, So There! (Hardcover)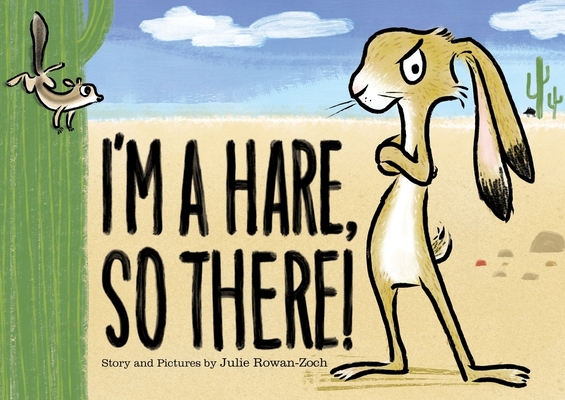 $17.99

Usually Ships in 1-5 Days
Description
---
An exasperated hare and plucky squirrel engage in a battle of wits to determine who's who in this hilarious author-illustrator debut for fans of I Yam a Donkey and Grumpy Monkey.
When a chipmunk mistakes Hare for a rabbit, Hare puts him in his place. But actually, the chipmunk is a SQUIRREL. Or so he says.
Ever wondered about the difference between a turtle and a tortoise? Or a sheep and goat? So have Rabbit and Chipmunk—er, Hare and Squirrel!
This hilarious look at dynamic duos in the animal kingdom pokes fun at the lookalike animals we all love, while delivering a gentle lesson on appreciating differences and standing up for what you know to be true about yourself.
About the Author
---
Author, illustrator, bookseller, and activist: Julie Rowan-Zoch grew up collecting freckles and chasing hermit crabs in NY, and spent years slicing rich breads in Germany before waking up to 300 days of blue Colorado skies. If she doesn't answer the door, look in the garden!
Website: https://julierowanzoch.wordpress.com/
Pinterest: https://www.pinterest.com/julierowanzoch/
Twitter: @JulieRowanZoch
Facebook: https://www.facebook.com/ArtistJulieRowanZoch
Instagram: @jrzoch
 
Author, illustrator, bookseller, and activist: Julie Rowan-Zoch grew up collecting freckles and chasing hermit crabs in NY, and spent years slicing rich breads in Germany before waking up to 300 days of blue Colorado skies. If she doesn't answer the door, look in the garden!
Website: https://julierowanzoch.wordpress.com/
Pinterest: https://www.pinterest.com/julierowanzoch/
Twitter: @JulieRowanZoch
Facebook: https://www.facebook.com/ArtistJulieRowanZoch
Instagram: @jrzoch
 
Praise For…
---
"This clever rumination on the differences between commonly mixed-up animals is a sneakily educational readaloud."—BCCB "For anyone a bit hazy on the differences between a rabbit and a hare, a tortoise and a turtle, or, for that matter, a hog and a javelina, this cactus-country confab begins to clear things up."—Booklist "Animated and educational"—Kirkus —